Post Game Huddle : No Full Stops In Quality
There is a chain of coffee shops in Shanghai (maybe all of China?) called SPR Coffee.  I really like the slogan that they use on their paper cups – "No Full Stops In Quality".  It reminds me that, no matter how high your quality is now, or how good your processes and practices are that help achieve and ensure good quality, there is always something more you can do.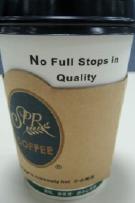 As if to underscore this, on a previous trip to Shanghai I purchased an Americano coffee from the SPR in our office building.  It was super-hot.  The cardboard sleeve that was supposed to protect me got super-hot too, the glue holding it together melted and the sleeve fell off.  So, even SPR Coffee still has some work to do to improve in the quality space!  :-)
So, what is your team doing to increase the quality of your product?  What practices are you changing to push the quality in to your product, or even to design the quality in up-front?  What issues are your retrospectives revealing that will lead you to make changes that will support new quality initiatives?
[this entry was originally posted on phammond.com in July 2010]